Jacinto City DJ Services
DJ in Houston
DJ In Houston, Wedding DJ FREE MONOGRAM WITH BOOKING! The best Wedding DJ Voted #1 in 2020, Dancing on a Cloud Photo Booth, DJ Houston Wedding.
Rely on the experts at DJ in Houston for an outstanding DJ Service every day. We know DJing Service and it really shows! Get a free estimate for a Professional DJ Service today!
Our DJ Services are some of the most reliable and sought after in the Jacinto City area.
Texas's Professional DJ Services
Professional DJ in Houston in Jacinto City
Music is a big part of the wedding reception, and it does make sense that people think that the DJ is only music. That's not entirely true. Now I could make a long list of everything a DJ does, but that would be pretty boring.
Music will set the mood of the event. During the Ceremony, you can set a church ambient by playing classical music. Even modern music with a violin cover would fit very well.
During the cocktail, a bit more upbeat, maybe like a jazzy ambient would work great.
Dinner, we get a little more modern, love ballads, slow romantic songs, getting a little more danceable towards the end of dinner.
Reliable DJ Services in Texas For 20 Years

20 Years wedding entertainment experience. We have been through it all, we've seen it all, and we are very experienced with reading the crowd and playing the right songs for you.

Top of the line equipment. Our equipment will not only look great but sound amazingly sharp and clear. All announcements will be crystal clear.

Our DJs are also trained Masters of Ceremonies. All your announcements will be made in a professional an courteous manner.

We offer additional upgrades to help make your event unique. We offer photo booths, dancing on the clouds, monograms, sparkler machines, etc.. At an affordable rate.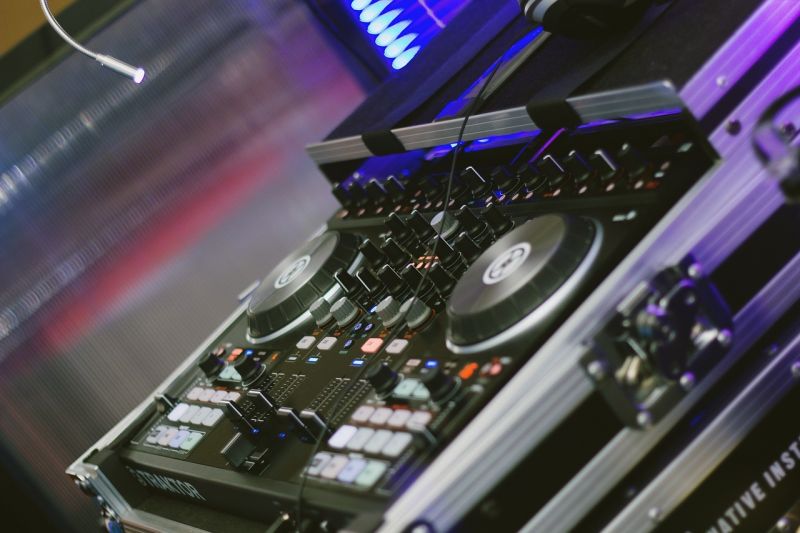 DJ in Houston is a top rated DJ Service in Houston. We are proud to provide top DJ Services in Texas and beyond. We are ready to help you with all your DJing Service needs in Jacinto City and all the surrounding areas.
When you need a great DJ Service , you've come to the right place!
Market at Hunting Bayou, Songwood, Woodland Acres, Greens Bayou
2. Music Programming Artists
Playing music is one thing. You put a playlist together and hit play, right? Well, you could do that. Or you can have a seasoned professional, play songs that he KNOWS are a hit. Cycle through the genres evenly throughout the night. And, what's best described as, "FEEL" the ambient and adjust accordingly.
First, the DJ makes an educated guess of what he will begin to play based on the playlist provided by the bride and groom. Second, use a generalized judgment based on the people you see attending. What are the average ages? Do they look outgoing or more laid back? Are they from out of town? These are a few of the mental notes a good DJ starts looking at once the guest starts arriving.
When the party starts, that will be adjusted based on what people are actually dancing.
The artistry of it is, there is no set formula, there is no set of rules, the DJ must use his intuition, his knowledge, and his intelligence to select the next song; for EVERY song that is played that night. Song for song, he has to evaluate what is the next best song to play.
At the same time, choosing from the bride and groom's list of songs to make sure he plays all their MUST PLAY songs.
CLIENT TESTIMONIALS
Lesly Ferreira
Francisco is seriously one of the best DJs! he felt the crowd and delivered what we all asked for. Everyone loved it and stayed longer than they had told me. My husband and I danced all night long and enjoyed ourselves very much! Thank you, Francisco
Richard Velazquez
Francisco! Wow! I can't begin to explain how awesome you were! My wife and I, along with our guests were extremely happy with your services. Very professional and flexible with our needs and wants. The fact you showed up so early to set up was an automatic 10-star rating for you. You took your time to set everything up and the lighting made our venue glow so beautiful. The song choices were on point!! And I'm glad this is a family business, it was a pleasure also meeting your wife at the photo booth, our guest loved it! We really appreciated your service and we will deff recommend you to our family and friends. Thank you again for everything!
Jennifer Pena
Elegante Entertainment was the BEST, especially with our bilingual, Mexican/Czech wedding! Fransisco kept the dance floor busy all night! Highly recommended!!
Shanell Garcia
Frank is the absolute best. My husband and I had a bi-lingual (English/Spanish) wedding and reception. I was very nervous about everything flowing smoothly. Well, Frank definitely delivered. He was very professional, he listened to all of "last minute" requests for my song choices. Everyone at my wedding said it was the best wedding they had ever been to. If you look at pictures everyone and I mean even my husband's grandma was on the dance floor all night Spanish, hip-hop, zydeco, r&b, and all. Thanks so much, Frank!
DJ in Houston
10326 Palestine St
‪(281) 301-5753‬
Mo-Fr 8:00 am – 9:00 pm
Call our team today at ‪(281) 301-5753‬ and we can help you with a free consultation for a great DJ Service with no-hassles. Our trusted and respected DJ Services are driven to give you the best customer service possible.
DJ in Houston loves referrals and we will do everything we can to earn your trust and your 5-star review!